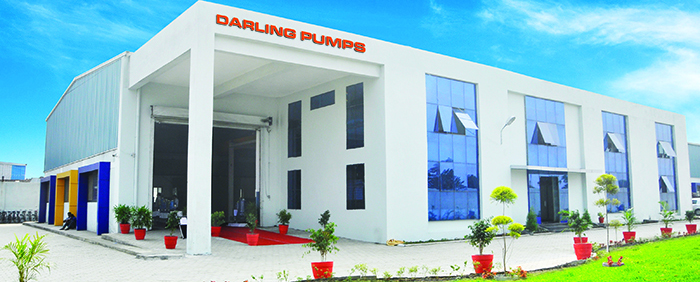 Darling pumps with its expertise of over 35 years, has been the Chief architect of submersible pump revolution in India, with its every new & innovative product line it has set a benchmark for others to follow and has thus always kept one step ahead of the market.In last decade, Mr. Sandeep Naolekar – Managing Director, with his true grit and determination, has single handedly taken company to greater heights, in this short span much new product ranges evolved like – SUBMERSIBLE DEWATERING PUMPS, SEWAGE PUMPS, SS DEWATERING PUMPS, NON CLOG PUMPS, SLURRY HANDLING PUMPS, CANTILEVER PUMPS, AREATOR PUMPS, always providing efficient, reliable and world-class designs.
Darling Pumps with its dedicated team of R&D experts & with its new state of the art manufacturing facilities at Indore (M.P.) is well equipped to manufacture pumps up to 500 HP. It has ability to integrate different systems to provide customized technical solutions. Proven quality and cost effectiveness are just the by-products of integrated involvement and dedication of TEAM DARLING. Darling Pumps is been recognized for its capability to handle tough and varied Indian pumping conditions. Providing customized pumping solution has always been its forte. Almost all developmental projects unmistakably chose DARLING PUMPS for their Quality and Reliability.
DARLING PUMPS is now a niche enterprise for Government and Semi-Government organizations & is an APEX player in Indian Pump Market… with over 750 indigenously developed pump models… DARLING PUMPS has Patronage of leading organizations like: NPCIL, NTPC, Various STEEL PLANTS & MANY other leading industrials & commercial organizations.After creating a niche in submersible pumps sector in India, various models of DARLING PUMPS are now being exported to various Asia Pacific, Middle East, European and South African countries.
Today, Darling pumps subscribes to quality – "Not just the product quality, but quality in the way we choose to do business, quality in the way that we deal with our own personnel, quality in the way that we deal with our suppliers & ancillaries & very importantly quality in the way that we treat our customers, both potential as well as existing" Getting richer with the experiences and seeking problems as opportunities, DARLING PUMPS is geared to soar high in the realm of Pumps worldwide, offering you
BETTER PRODUCTS, BETTER PUMPS…