Hot Water Pumps
Hot water pumping is very common across various industries& it's pumping is still a big challenge for many organizations. As there were major challenges in providing cooling for motor traditionally submersible pumps were not used nor recommended for pumping hot water. Worry no more, Darling pumps over the years has been pioneers in providing submersible pumps for Hot temperatures liquids. Our pumps are running successfully in variety of application in arena of Hot water pumping, catering to liquid temperatures up to 90°C.
Hot Water Pumps
Features
Impeller – Special corrossion / errossion resistant impellers to suit specifc applications. Impeller to suit Solids passage up to 100mm.
Motor – Highly efficient dry motor with built -in protection against temperature rise. Motor capable to withstand wide voltage fluctuations.
Shaft – Extra heavy duty SS Shaft.
Mechanical Seals – Specially designed Dual Mechanical seals with unique rubber material are fitted in independent seal chambers. Design is such that Seals are not exposed to pumpage liquid and are also independent of discharge pressure.
Bearing– Heavy duty ball bearing used at top and bottom ends to balance adverse load.
Cable Sealing – Special leak proof cable sealing arrangement,to avoid ingress of water through cable.no need to open motor for changing cable.
Applications
Industrial & Process Water in Steel Plants
Industrial & Process Water in Thermal Power Plants
Boiler run down water
Pumping high temprature Effulents, Wastes, Slurries.
Chemical Handling Plants & Many More….
Hot Water Pumps
 Tech. Specifications*
Rating
:
Up to 200 HP
RPM
:
2900 / 1450  / 960
Frequency
:
50 HZ
Supply
:
Three phase- 415 V
Starting
:
DOL / STAR DELTA
Motor
:
Wet type / Dry type
Process Data
Liquid temperature
:
Max 90° C
Liquid Density
:
2.8 gm/cc
Suitable for liquid pH
:
6 to 8
Stainer Hole Size
:
Up to 100 mm
Materials*
Impeller
:
CA – 15, CF8, CF8M,various grades of Cl
Shaft
:
AISI-410, SS-304, SS-316
Difusser
:
Various grades of CI/ SS
Wear plate
:
Various grades of CI/ SS
Mech. Seal
Sic  v/s Sic, Tc  v/s Tc with special rubber material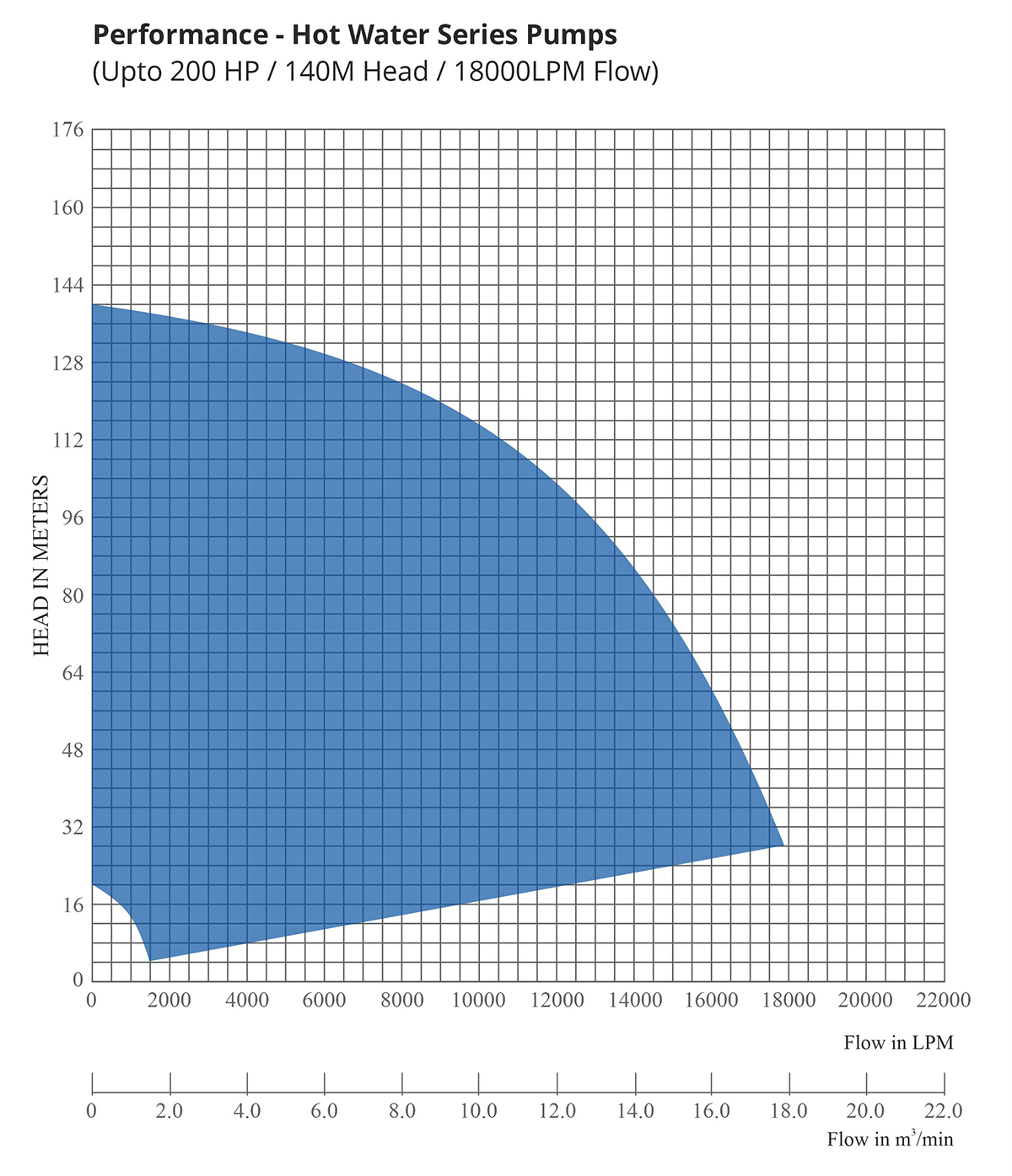 Hot Water Pumps
Options
Option of pumps for Clear Water Pumping, Waste Water, Effulents & Slurries with solid passgaes up to 100 mm
Pumps can be offerred for specific gravity up to 2.8
Pumps can be offered for 60 Hz.
Pumps can be offerred with pontoon arrangement as well
Guiderail / Fastout arrangement Upto 20 mtr pit depth.
Can be offerred for high temprature corrosive liquids as well
Recommendations
Always flush the pump with clean water after use.
In case of maintenance always use genuine spares.
Ensure use of proper control panel for proper safety & running of pumps.
Always ensure that pump is properly earth.